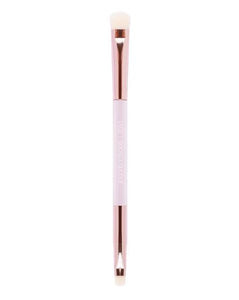 Dual-Ended Eyeshadow Shader brush
This multi-tasking eyeshadow brush is the perfect tool for achieving ultra-glam looks.
Finished in a beautiful rose gold and nude acrylic, the brush has two densely packed yet exceptionally gentle brushes inspired by the shapes and textures of some of Huda's favourite eyeshadow tools.
How to use:
Made with multi-tasking in mind, the Smoke & Smudge brush is perfect for applying, blending, softening or smudging and will create a sultry, soft-focus effect. The wider, fluffier brush fits snugly into the socket of the eyelid – ideal for contouring – and the smaller, more intricate side is essential for buffing shadows along the lash line for a sultry, soft-focus effect.
Suggested usage:
• Using the larger brush, sweep eyeshadow along the socket line to softly contour the edges of your eyes
• Use the smaller side to gently blur shadow into the lash line for added drama and intensity